Bryce-3D Page
Revised 17 Aug. 08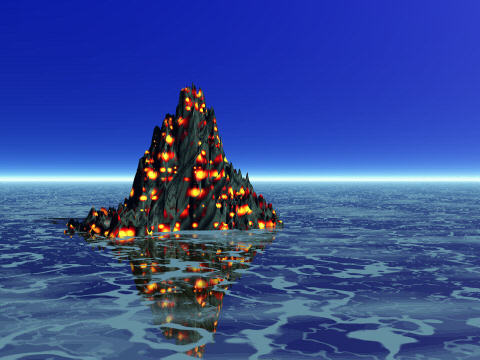 A friend of mine installed Bryce 3D on her new computer. These are some of the first images we created while playing with this incredible program ... The image above is straight 'out of the can', using a combination of standard Pre-Sets (texture maps, terrains, skies, etc.) available in the program.
Total time to create this image was maybe 5 minutes!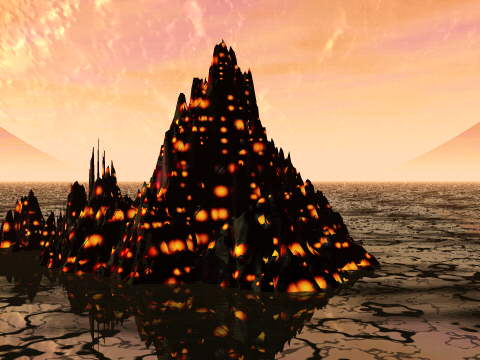 This is the same source file as the previous image... I have simply
added a cloud layer and a large 'Planet' in the background...
I have also changed the "Camera Angle" and the color and position of the "Sun"... and I have modified the Terrain Map
slightly (the little spikey things) using the Terrain Editor.
...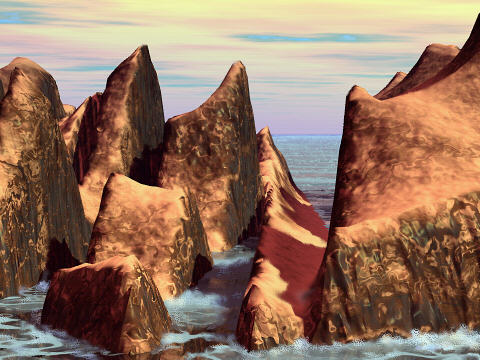 I used Picture Publisher to retouch this seascape. These "landscapes" are full 3-D environments, (in the program) you can place the camera anywhere in the scene and view the landscape from any angle, move through it, fly over it, etc..
You can even create underwater scenes, or Architecture - and other 3D stuff (or import 3D models and images from other programs)
...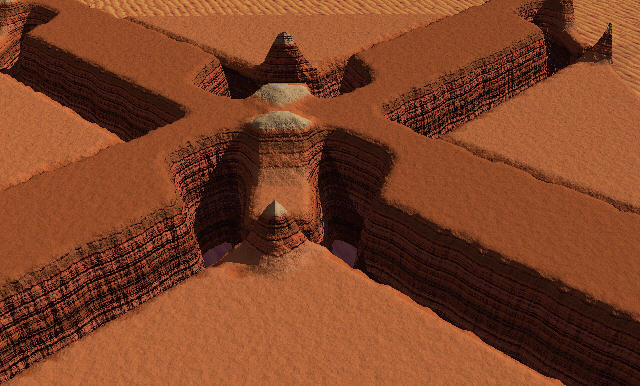 Each of the Pre-Set parameters - clouds, colors of the sky, sun, the landscape textures and terrain map/profile, fog and haze colors, etc. can be modified using the many controls within the program - there an infinite number of combinations available in the supplied pre-sets, which you can add to. You could even make a landscape from a photograph of your face...! The image above was created from a tiled image similar to the one I used for the background texture on pg.11 of this website...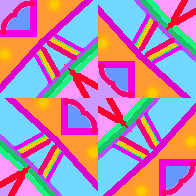 ... like this one.
The Terrain Editor converts colors to shades of grey, which are interpreted as height information (darker = lower, lighter = higher). I have dozens of these. I'll be trying some others soon...!
O.K.... How about a trip to "Mars"...?!
...
...
Or, check-out some NEW Bryce4 stuff!!
...
If you want to see more of my Bryce Pix, go Here ...
...
Back to the Index Page
...
...